APART AUDIO korpusinė garso kolonėlė SDQ5PIR-W (Komplektas)
SDQ5PIR is a stereo loudspeaker set with 1 active and 1 passive loudspeaker that stands for reliability, affordability, dynamic music and detailed voice reproduction! The active stereo amplifier loudspeaker has a low distortion high efficiency 5.25" woofer and one output is fed to the second linkable passive loudspeaker.
The SDQ5PIR set can be controlled from the included infrared remote control, via serial commands or via the Apart wall control panels (ACP, ACPL or ACPR) which allow control of power and volume. ACPL and ACPR also allow the addition of external audio inputs. Teachers, lecturers or anyone who is giving a presentation can stop worrying about audio system problems and stay focused on their presentation.
All inputs can be gain adjusted, used individually or mixed together. The balanced input allows long signal line without interference. You will not hear any hum or buzz, because there will be no ground loop issues when connecting the SDQ5PIR with notoriously difficult laptops, LCD projectors or interactive white boards.
These loudspeakers will give you a variety of sound possibilities when used in conjunction with a flat screen, projector or smart board. With their magnetic shielding these loudspeakers are the ideal and cost effective audio solution for your classroom, boardrooms or meeting room.
height
253 mm
width
180 mm
depth
162 mm
loudspeaker system
2-way
woofer size
5,25 inch
woofer cone material
polypropylene
tweeter size
1 inch
mounting system
U-bracket
low impedance dynamic power
2 x 30 watts
SPL 1W/1m
86 dB
max SPL 1m
101 dB
frequency response
45 – 20K Hz
main construction material
ABS plastic
grille main material
steel
IP rating
40
applicable low impedance
Yes
applicable in 100V
Yes
active
Yes
Horizontal dispersion angle 1000 Hz
180°
Vertical dispersion angle 1000 Hz
180°
Net weight product (kg)
5,60
Jums taip pat gali patikti…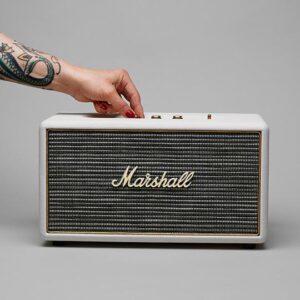 Akcija!